Personalized Relief for Your Dry Eyes
Eye discomfort can be distracting. When you have dry eyes, blurry, tired eyes can make focusing difficult, scratchy, burning eyes can demand your attention, and you may need to wipe away tears frequently but still feel discomfort.
Dry eye can be frustrating to deal with on a regular basis, but you don't have to suffer. We want to help your eyes feel refreshed.
Get the relief you need. Reach out to Northwest Family Eyecare for dry eye treatment.
Book Appointment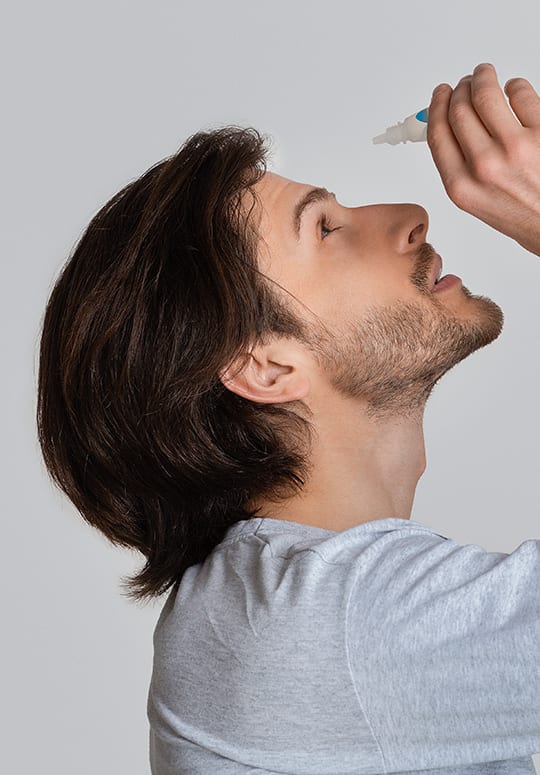 What Is Dry Eye Disease?
Tears are essential for eye comfort and health. A consistent mixture of moisture (called the tear film) keeps your eye's surface clean and nourished. When you produce too few tears or parts of your tears change, you can experience dry eye. Symptoms may be acute (short-term) or chronic (long-term).
Chronic dry eye can increase eye health risks, so getting relief is important.
Dry eye can develop for many reasons. Tear quality can change throughout your life from factors like medications, medical conditions, or aging. Chronic symptoms are more common in older adults, as we produce fewer tears as we age.
However, symptoms can be experienced at any age. Dry climates, eyelid hygiene, eye surgery, or a poor contact lens fit can disrupt the tear film. At Northwest Family Eyecare, we get to know you and your symptoms, so we can focus on the root cause. With a customized treatment plan, we aim to help you achieve relief that lasts.
How Is Dry Eye Treated?
Dry eye treatment focuses on more than your symptoms. Our goal is helping you address the underlying cause. We complete a thorough assessment of your eye health and talk about your experience. Our recommendations are based on your daily needs and preserving your long-term eye health.
Patients may benefit from a few management methods. We may discuss at-home care regimes, like eye drops and lid cleansers, or in-office treatments, like LipiFlow or IPL therapy. Our approach for your dry eye is individual. We'll focus on what works best for your comfort and overall health.
Get Comfortable with Dry Eye Treatment
Dry eyes can impact your daily life. Our goal is helping you regain your enjoyment of clear, comfortable vision. We care about your eyes. Book an appointment to get started with your personalized dry eye treatment plan.
Book Appointment
Visit Our Location
We are conveniently located just inside Northwest Loop 410 off Ingram Road.

Our Address
6450 Northwest Loop 410 Suite 115

San Antonio

,

TX

78238
Hours of Operation
Monday

:

9:00 AM

–

5:00 PM

Tuesday

:

9:00 AM

–

5:00 PM

Wednesday

:

9:00 AM

–

5:00 PM

Thursday

:

9:00 AM

–

5:00 PM

Friday

:

9:00 AM

–

5:00 PM

Saturday

:

By appointment only

Sunday

:

Closed

Note: We are closed for lunch from 12:45 PM to 2:00 PM Monday through Friday.
Book Appointment
Our Eyewear Brands
At NWFEC, we have a wide selection of frames for your whole family. Your frames can express your style and support visual performance. Our friendly team can guide you through designs and features to find a pair that is completely you.