Contact Lenses for Your Visual Needs
Contact lenses can offer a range of benefits for vision correction. The frame-free lenses create a natural look with an unobstructed view of the world. With contact lenses, you can enjoy greater freedom of movement, whether you wear contacts every day or just on game day.
At Northwest Family Eyecare, we take each patient's unique needs into account. A thorough contact lens exam and fitting allows us to customize your lenses to meet your daily vision needs.
Book your contact lens exam to update your prescription or fit.
Book Appointment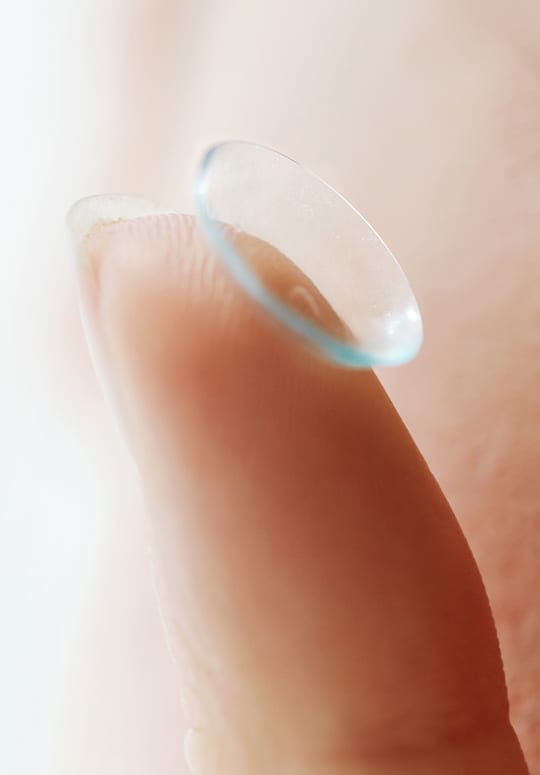 What Is a Contact Lens Exam?
While routine eye exams help determine eyeglasses prescriptions, a separate prescription is necessary for contact lenses because they rest directly on the eye—making customized measurements crucial for visual performance and protecting eye health.
A contact lens exam and fitting, like an eye exam, includes a series of evaluations to find an appropriate lens style, fit, and features.
What to Expect for Your Contact Lens Exam & Fitting
We take the time to find an appropriate contact lens fit. That's why the exam and fitting is a multi-step process. We perform assessments, discuss your experience, and offer a trial period so you can feel confident about your lenses. Our goal is finding a fit that provides clear, comfortable vision.
The steps can vary depending on your contact lens needs. You may be unsure of what lens type you prefer if it's your first fitting. Or, changing eye health or vision may mean you need an update from a previously preferred style. We focus on solutions that work, even if it takes some fine-tuning.
Preliminary Exam & Measurements
The preliminary exam is a thorough assessment of your eye health. An in-depth look at your eyes allows your doctor to make personalized recommendations. It also helps identify any underlying conditions that could affect your ability to wear lenses, such as dry eye.
Several measurements are taken to inform fit, including corneal curvature and pupil size. Some of our instruments can provide precise details about the eye's surface for your lens fit. They can also help monitor for signs of disease.
Your personalized measurements are essential for determining your contact lens prescription.
Selection & Fitting
Your doctor will recommend a lens based on your exam results. Your lifestyle, visual demands, and comfort are factors we consider.
Soft contact lenses are popular because of their flexible material. They also perform well during high-intensity activities, as the lens conforms to the eye's shape. However, we can also help fit rigid gas permeable (RGP) lenses, which can provide sharp, consistent vision correction.
A trial period allows you to see how your lenses feel and perform in your daily life. Then, we reevaluate eye health and discuss your comfort at a follow-up visit.
Education & Training
We want you to feel informed and confident about using your contact lenses. Patients who visit us receive one-on-one instructions about how to insert, remove, and care for their lenses. We'll provide guidance on healthy lens wear and how often your lenses should be replaced.
Your doctor can answer any questions you have about your contact lenses or prescription.
Follow-up Visit
After the initial contact lens fitting, patients return for a follow-up appointment. We check if your lenses are fitting properly with an evaluation of eye health and visual function. We'll also ask if you feel comfortable with your lenses.
A contact lens fitting benefits from attention to detail. With a thorough, step-by-step process, our goal is providing an accurate fit for your vision needs.
Your Contact Lens Options
We work with patients to select a lens type based on personalized measurements and preferences. Northwest Family Eyecare offers a range of lenses to accommodate our patients' vision needs.
In addition to standard soft or RGP lenses, we can also fit hybrid lenses, multifocals for presbyopia, and torics for astigmatism. Hybrid lenses, like SynergEyes, combine features of soft and RGP lenses. The rigid center provides sharp vision correction while the flexible outer skirt enhances comfort.
We'll discuss which lens type may benefit your vision and eye health at your lens fitting.
Book Appointment
Focused on Your Contact Lens Fit
Contact lenses should fit like a glove—not too tight, so they're not pinching and restricting function, and not too loose, so they're not slipping and in need of frequent readjustments. Your fit supports how effectively your lenses correct vision and how your lens wear affects eye health.
Book your contact lens exam at Northwest Family Eyecare. We take the time to help you find your individual fit.
Book Appointment
Visit Our Location
We are conveniently located just inside Northwest Loop 410 off Ingram Road.

Our Address
6450 Northwest Loop 410 Suite 115

San Antonio

,

TX

78238
Hours of Operation
Monday

:

9:00 AM

–

5:00 PM

Tuesday

:

9:00 AM

–

5:00 PM

Wednesday

:

9:00 AM

–

5:00 PM

Thursday

:

9:00 AM

–

5:00 PM

Friday

:

9:00 AM

–

5:00 PM

Saturday

:

By appointment only

Sunday

:

Closed

Note: We are closed for lunch from 12:45 PM to 2:00 PM Monday through Friday.
Book Appointment
Our Eyewear Brands
At NWFEC, we have a wide selection of frames for your whole family. Your frames can express your style and support visual performance. Our friendly team can guide you through designs and features to find a pair that is completely you.