Eyewear for Everyone
You want eyewear that can keep up with all of life's adventures—whether your idea of fun is indoors or outdoors. Our selection at Northwest Family Eyecare offers something for the whole family. Find sturdy frames to keep up with your kid's playground mischief. Or, discover trendy designs to pair with your personal style.
Take a look at our frames and lenses today. Our team can help you find a match for your daily needs and a look to express yourself.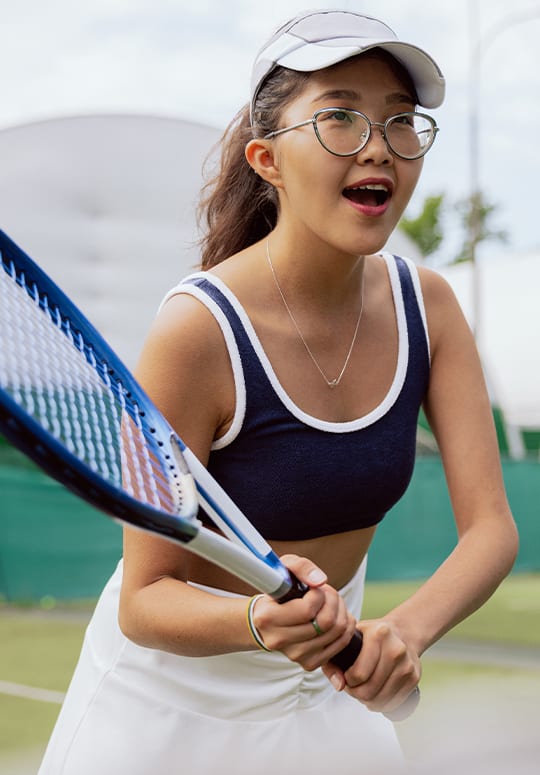 Caring for Your Frames Supports Vision Quality
Let's be real, life can get messy. Between running errands, competing in sports, and general everyday chaos, our glasses go through a lot of wear and tear. That's why we've got your back. We offer free adjustments so you can keep looking good no matter what life throws your way.
Fine-tuning your frames helps maintain how your glasses fit, feel, and function, so you can keep enjoying your eyewear.
Lenses to Enhance Your Vision
Lenses can provide more than clear vision. Lens features can enhance the quality of your vision correction too. During a comprehensive eye exam, we assess your eyeglasses prescription, but we also evaluate your vision needs.
Your day may involve a lot of close work or digital screens. Or, you may need lenses that can easily transition from indoors to outdoors. From anti-glare to adaptive lenses, there are a lot of ways your lenses can support your sight. Our opticians get to know your individual needs to make lens recommendations that fit your lifestyle.
Book Appointment
Frames That Express Your Unique Style
Everyone has their own unique fashion sense. Your glasses should help you express that style. Your frames can help you make a first impression that's completely you, whether you want an eye-popping design or a look that blends in like camouflage.
Our selection has a variety of frames for all ages. We'll guide you through the designs, materials, and features. We strive to pair you with a style that helps you feel confident about your look and vision.
We want all our patients to love their eyewear—from the comfort of the fit to supporting your visual experience.
Eyewear Designed to Protect Your Eyes
Sports and safety glasses are designed for durability. Protective eyewear can prevent 90% of severe eye injuries and can help support visual performance.
Contact lenses can often stay in place better than glasses during high-intensity activities—but some patients prefer glasses. Sports glasses can be customized to your prescription. The fuller coverage offers improved protection and a wider field of view.
Safety glasses are a must for many work environments, but they can also be an asset for work at home.
Talk to our staff about your lifestyle so we can recommend appropriate eyewear solutions.
Visit Us to View Our Eyewear
You're welcome to take a look at our selection anytime. Whether you're browsing eyewear after an eye exam or just looking for a new look, we're happy to help. Book an appointment to update your prescriptions or stop by for a browse.
Different Lenses for Different Needs
Along with a variety of frames to browse and choose from, we offer different lenses that help address your unique visual needs. Our team is excited to help you find the perfect lens and frame combination.
Single-Vision Lenses
Single-vision lenses provide a simple and effective way to correct a wide range of vision problems. Single-vision lenses feature a uniform prescription throughout the entire lens, which means they are perfect for people who need corrective lenses, whether you're nearsighted or farsighted.
FT28 Lenses
FT28 lenses feature a unique design that allows them to adjust to varying levels of brightness, providing clear and comfortable vision in any environment.
Whether you're indoors or outdoors, in bright sunshine or dim lighting, FT28 lenses will help reduce glare and provide sharp, clear vision. Plus, their durable construction means they can withstand daily wear and tear.
Progressive Lenses
Unlike single-vision lenses, which can only correct one type of vision problem, progressive lenses feature a gradual change in prescription from the top to the bottom of the lens, allowing you to see clearly whether you're looking straight ahead, up close, or far away, without the need to switch between different pairs of glasses constantly.
Progressive lenses are particularly beneficial for people with presbyopia, a common condition that affects the ability to see things up close as we age.
Anti-fatigue Lenses
Anti-fatigue lenses feature a unique design that reduces the amount of blue light emitted by electronic devices while also providing a slight magnification to reduce eye strain.
These lenses help prevent the fatigue and discomfort that can come from prolonged use of digital devices. Anti-fatigue lenses are particularly beneficial for those with computer vision syndrome (CVS), a common condition caused by staring at screens for long periods of time.
Visit Our Location
We are conveniently located just inside Northwest Loop 410 off Ingram Road.

Our Address
6450 Northwest Loop 410 Suite 115

San Antonio

,

TX

78238
Hours of Operation
Monday

:

9:00 AM

–

5:00 PM

Tuesday

:

9:00 AM

–

5:00 PM

Wednesday

:

9:00 AM

–

5:00 PM

Thursday

:

9:00 AM

–

5:00 PM

Friday

:

9:00 AM

–

5:00 PM

Saturday

:

By appointment only

Sunday

:

Closed

Note: We are closed for lunch from 12:45 PM to 2:00 PM Monday through Friday.
Book Appointment
Our Eyewear Brands
At NWFEC, we have a wide selection of frames for your whole family. Your frames can express your style and support visual performance. Our friendly team can guide you through designs and features to find a pair that is completely you.